Waterfront Red Trolley Car Line
Posted by Dave Fratello on Saturday, January 28, 2012 at 4:27 PM
By Dave Fratello / January 28, 2012
Comment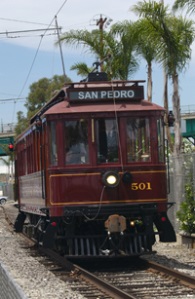 Looking for a sweet ride for a sweet price?
If you have a young train or car enthusiast in your family, you can't beat the Port of L.A.'s Waterfront Red Car Line for cheap thrills - a $1 thrill, to be exact.
The Red Car Line is a 1.5 mile long vintage trolley line connecting San Pedro's World Cruise Center and the Fanfare at San Pedro Gateway with other attractions along the waterfront including 6th Street and the LA Maritime Museum, Ports O' Call, Fisherman's Wharf, and 22nd Street.
The trolleys operate from 12 PM to 9:30 PM, Friday through Sunday. Trolleys may also run on Mondays, Tuesdays, Wednesdays, and Thursdays when cruise ships are in port.
The $1 fare is an all-day fare includes that gets you unlimited rides for the day.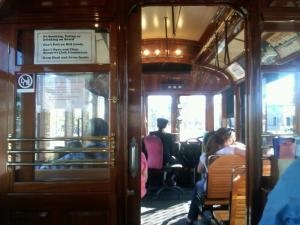 It's a perfect ride for kids; short and sweet, with interesting scenery and stops.
On our Saturday afternoon ride, Jay, the friendly conductor, gave each kid a conductor's hat and trolley coloring book.
If you're looking for an old-fashioned romantic evening activity, try a trip on the trolley to see the nighttime performances at the Fanfare Fountain at San Pedro Gateway from 7 PM to 8 PM. Getting there is easy: It's a straight shot down the 110 from most points in the South Bay, and there's free and plentiful parking at the 22nd Street Marina Station. The Port of Los Angeles Waterfront Red Car Line, Marina Station, East 22nd St and Miner St, San Pedro. (310) 732-3508