See Gray Whales from PV Cliffs
Posted by Dave Fratello on Thursday, March 5, 2015 at 1:48 PM
By Dave Fratello / March 5, 2015
Comment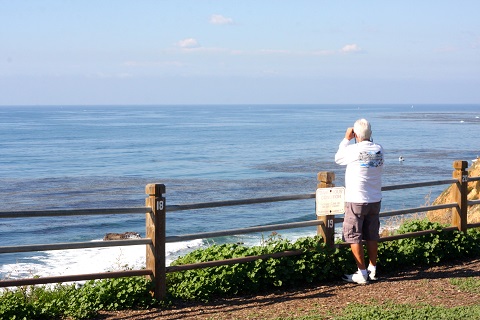 Want to see gray whales migrating without leaving land?
Head to the Pt. Vicente Interpretive Center in Rancho Palos Verdes, a beautiful bluffside oceanfront park where the public can catch the offshore marine mammal action for free.
And there's no kidding: People do see whales. Record numbers, in fact.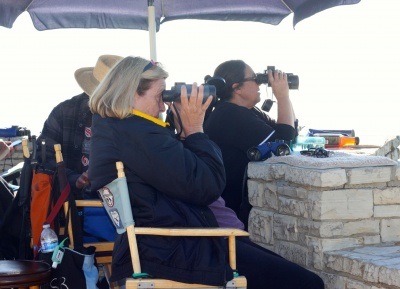 This year's southbound census count of migrating gray whales is at 1,874, the largest number ever recorded by census watchers who hold forth daily on an outdoor patio in back of the Interpretive Center, some sitting in high-rise chairs, year after year from Dec. 1 through May 15.
With most of the southbound migration complete, visitors to PVIC will now begin to witness the northbound migration of whales and calves, the majority of whom have been born in the warmer waters off Mexico.
According to ACS/LA, "Northbound whales - particularly cow/calf pairs - tend to hug the coastline. These trends, combined with extended springtime observation hours, produce higher northbound counts."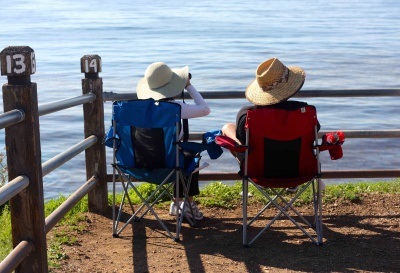 "We see lots of rolling and flippers," said Diana McIntyre, curator and docent coordinator at the Interpretive Center, of the whale action.
Of this year's record numbers, she says, "it's the very biggest year ever. It was early."
Gray whales have been counted from Point Vicente or Long Point on the Palos Verdes Peninsula since 1979, with the exception of two seasons, 1981-1982 and 1982-1983.
This year's southbound count included 49 calves. Just this week, the census whale counters (who are part of a joint operation between the American Cetacean Society, Los Angeles Chapter and Cabrillo Marine Museum) spotted the first mom gray whale and calf duo heading north.
Gray whales migrate from Alaska to Mexico and back every year, from October through June. Pregnant females head south to the warmer waters of Mexico to give birth. Adult male whales follow, as do juveniles, some of which make it all the way south, others who turn north before making it to Mexico. Alaskan waters are warmer May through October; gray whales return to feed and gain the fat needed to make the migration south.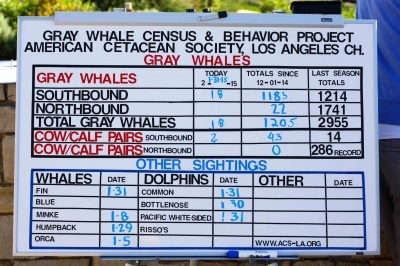 Census whale watchers at Pt. Vicente record the day's gray whale tally on a chalkboard for public viewing and will frequently guide visitors via numbered blufftop fence posts as to where to look to see a whale.
In addition to gray whales, census watchers frequently report sightings of humpback whales, orcas (killer whales), fin whales, and dolphins.
Here are some snippets census whale watchers wrote on Tuesday:
"A pod of three GRAY WHALES socialized for over SIX HOURS! They milled, rolled, and did a head lift and a head stand; they had not committed to a travel direction by day's end - maybe they will still be there tomorrow!"
"One northbound whale SPYHOPPED very close to shore, just outside the kelp; another did a bubble blast. Afternoon Breachers: one GRAY WHALE BREACHED four times, another BREACHED three times and then lunged once, and another whale BREACHED once. A strangely behaving HUMPBACK WHALE logged for over 30 minutes, just under three miles offshore. This whale first resembled a patch of kelp floating on the surface - but then 'the kelp' released a whale blow! While it 'logged' on the surface, we saw its distinctive dorsal fin and a very long pectoral flipper, confirming that it WAS a HUMPBACK WHALE; it also displayed the side of its fluke. We think that this whale was 'kelping': that the orange coloration was actually kelp draped across its back (between its blowholes and dorsal fin). Then it arched up and dove down; it was sighted just one more time as it headed west."
"FIN WHALES spread out all over our viewing area - including at least TWELVE different whales visible within a short time period. They swam back and forth, likely foraging; two FIN WHALES did some lunge-feeding, and one even BREACHED (a very rare behavior for fin whales). We also spotted COMMON DOLPHIN and PACIFIC WHITE-SIDED DOLPHIN. Our sunset ended with a very pretty green flash."
Open since 1984, the Pt. Vicente Interpretive Center is one of the City of Rancho Palos Verdes' public parks and is under the city's Recreation & Parks department. The Interpretive Center encompasses nearly 10,000 square feet, offering a free museum (donations appreciated) that documents and explores the natural and cultural history of the Palos Verdes Peninsula, as well as a gift shop and meeting rooms. A public room that opens to the back patio with a stunning coastal view is available for rent and can include kitchen facilities.
The park is open daily from 10 a.m. to 5 p.m. Parking is free. The grounds include walking trails (leashed dogs are allowed) and picnic areas. Pt. Vicente Interpretive Center is at 31501 Palos Verdes Drive West, Rancho Palos Verdes; (310) 377-5370.