Seaside Ranchos in Torrance Hosts 'Sleepy Hollow Christmas Lights' Extravaganza
Posted by Dave Fratello on Friday, December 23, 2016 at 1:05 PM
By Dave Fratello / December 23, 2016
Comment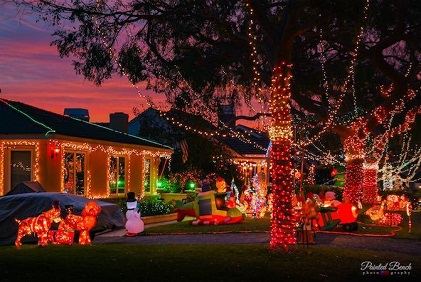 Holiday magic fills the air and lights up the night every December in Seaside Ranchos when residents turn their neighborhood into a spirited celebration of the season.
Now in its 30th year, what began as a group of residents adorning the area's distinctive Chinese Elm trees with tiny white lights has turned into a blocks-long extravaganza of Christmas decorations that begin to bedazzle all who traverse the southwest Torrance neighborhood beginning shortly after Thanksgiving.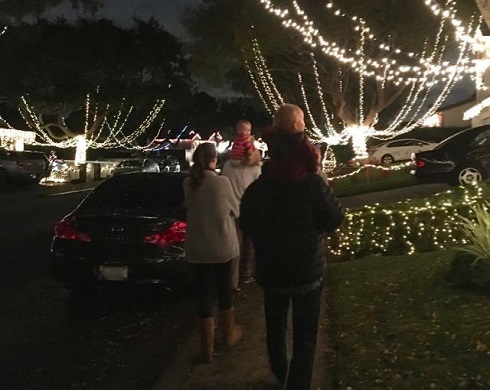 The annual event, known as Sleepy Hollow Christmas Lights, is a "must" experience for anyone who lives in the South Bay, and even brings visitors of all ages from farther afield to see the Nativity scenes, Santa Claus, reindeer, snowmen, sleighs and characters out of classic TV shows, movies, and books.
While many visitors elect to drive the streets slowly, it's well worth the time and effort to bundle up and get out of the car to stroll the sidewalks, especially where residents have set up tables and tents to offer goodies like cookies, hot chocolate, popcorn, cider, coffee, candy and hot dogs.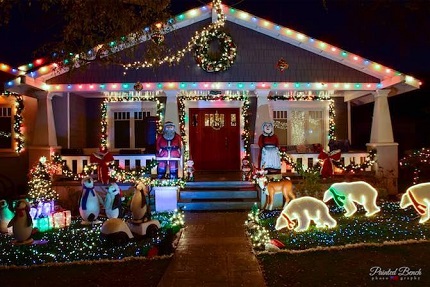 Dads carrying little ones on their shoulders, young ones in strollers, expectant moms, grandparents, and happy smiling faces are all part of the scene. Posing for photos in front of the decorated homes adds to the festivities and some residents even will have Santa or a sleigh to climb into for holiday photos.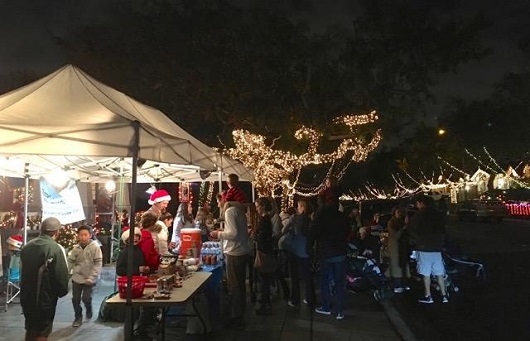 Indeed, the convivial atmosphere (many residents have fire pits lit in their front yards and driveways) gives all a chance to get in the holiday spirit as they wander through a winter wonderland some call "a mini Disneyland."
Locals may know the ins and outs of the roadways into Seaside Ranchos, but there are two distinct entrances that are the simplest:
1) The first access is from Pacific Coast Highway between Calle Mayor Avenue in Torrance and Prospect Avenue in Redondo Beach. From PCH you turn onto Roberts Road, a righthand turn if you're coming from Calle Mayor, a left turn if you're approaching on PCH from Prospect Avenue. Roberts Road puts you at the top of the Sleepy Hollows Christmas Lights area and you will easily be able to and your way through the lights.
2) Another entrance is from Palos Verdes Boulevard in Torrance via Linda Drive/Milne Drive. The intersection is a four-way stop and once you turn into the area you make an immediate sharp right onto Linda and go about three to four blocks until you hit Sharynne Lane, one of the main streets with lights. Other streets the decorations and lights extend to include Reese Road, Carol Drive, and Doris Way, which are all easy to find – especially if you just follow all the cars!
[Photo credits: Photos with watermarks in the lower right corner are by Painted Bench Photography in Palos Verdes, and are used here by permission. The balance are for South Bay Confidential.]
Yelp has a page dedicated to the experience that shows a map of the area at https://www.yelp.com/map/sleepy-hollow-christmas-lights-torrance.
Sleepy Hollow Christmas Tree Lights hours tend to be 6 to 10 p.m., though folks start gathering and cruising the area near sunset.
The lights go on nightly until the evening of New Year's Day.