Scalloped Hammerhead Joins the Aquarium of the Pacific
Posted by Dave Fratello on Friday, October 26, 2018 at 9:25 AM
By Dave Fratello / October 26, 2018
Comment
A new baby girl has arrived at the Aquarium of the Pacific after a long journey from Australia: a scalloped hammerhead shark, the first of its kind at the iconic aquarium in Long Beach.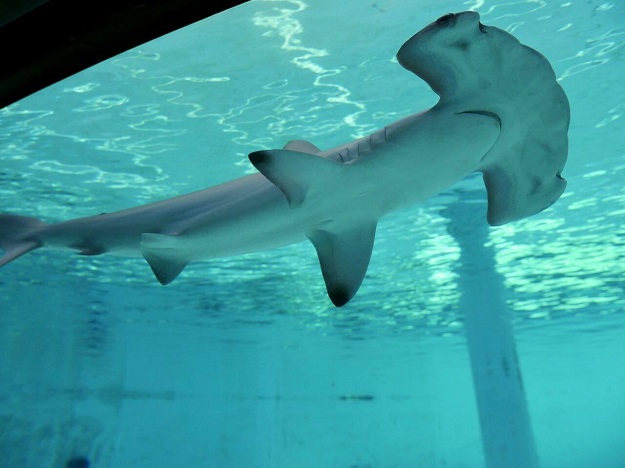 The 6-month-old shark, which doesn't have a name yet, is just three feet long right now but may grow up to 10 to 14 feet long and weigh over 300 pounds. It was flown to Southern California in a specially designed 10-foot circular tank.
The scalloped hammerhead (Sphyrna lewini) is officially an endangered species in the United States, although there are some sub-populations in other parts of the world that are thriving, according to staff aquarist Rachel Munson. The shark came to the Aquarium of the Pacific under permit from Australia.
These sharks are distinguished by the curvy front end of their "hammer heads." They are very social creatures, and they gather in schools, explained Munson, which makes them an easy target for fishermen.
Sharks are extremely intelligent animals and "definitely" have personalities, added Munson.
"She's really curious," she said of the baby shark - noting that the shark likes to check out the people she sees through the window.
For the next few months, this shark will live in a special tank at the Molina Animal Care Center, while it adjusts to aquarium life. Visitors can view it through a small window on the side of the tank. Once it learns aquarium feeding techniques, it will move into the aquarium's shark lagoon.
Scalloped hammerheads have been classified as endangered, due to overfishing. There continues to be a demand for shark fins and shark flesh. By exhibiting this shark, the Aquarium of the Pacific aims to provide an opportunity for education and discussion about sustainable fishing.
If you're interested in visiting the shark, this is a great time to visit the Aquarium of the Pacific. The aquarium is celebrating its twentieth anniversary this year with a variety of special programs, events, exhibits, and contests highlighting the institution's history and future.
In addition to the new hammerhead shark, star attractions include the aquarium's original animals such as Charlie the sea otter and Theo and Lou the sea turtles. Visitors may also have the chance to meet some new residents that have arrived just in time for the celebration, including a baby harbor seal born in April to Shelby, one of the aquarium's original animals.