Redondo Beach Bike Path Named One of Nation's Best
Posted by Dave Fratello on Thursday, December 31, 2015 at 4:09 PM
By Dave Fratello / December 31, 2015
Comment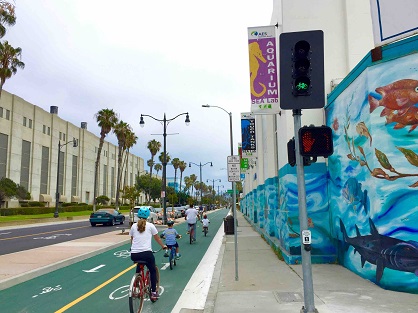 It's a smooth ride for bicyclists who are heading from the Hermosa Beach Strand to Marina Way in Redondo Beach - and now it's one of the country's best.
People For Bikes, a national organization advocating for safe bike riding, has named the new Redondo Beach pathway one of the top ten best new bike lanes in the country for 2015.
The organization, calling the lanes "gorgeous," lauded the new pathway for its "low-stress access" to a popular beach area, and for making bike riding "a viable alternative" to car traffic.
The Redondo Beach bike lanes were the only bike lanes in California to make the top ten list.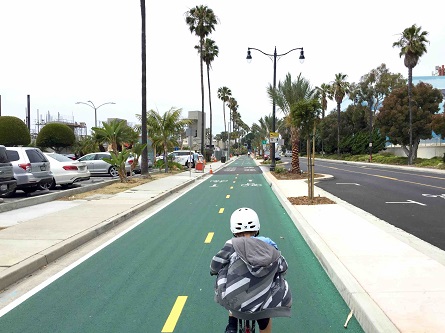 The new pathway, known as the Harbor Gateway and Bike Path Improvement Project, was completed and officially unveiled in June. It created a more direct connection for cyclists between Redondo and Hermosa Beach by knocking down a wall and creating a pathway through what had formerly been a city parking lot.
The $4.6 million project also included the creation of a "welcome plaza" featuring public art and open space, the installation of a directional bike lane separated by a landscaped buffer along Harbor Drive, new street lighting, and improved pedestrian crossings.
The project also introduces one of the first applications of reverse angle parking in the sub-region and improves safety compared to the traditional head-in angled parking. Head-in angled parking presents a "blind spot" behind the vehicle when exiting the parking stall wherein the driver is unable to readily see oncoming traffic or bicyclists.
In comparison, reverse angle parking eliminates this "blind spot" and drastically improves visibility. Reverse angle parking also allows for safer loading/unloading of children and more convenient and safe access to and from the back of the vehicle.
According to the City of Redondo Beach, the bicycle lane improvement project "is an example of an innovative and transformational project that can be inspired by a Bicycle Master Plan and proves the commitment to improved public health through intervention in the built environment."