Recent South Bay Sales Data
Posted by Dave Fratello on Saturday, August 21, 2010 at 4:00 PM
By Dave Fratello / August 21, 2010
Comment
The first part of the column concerns 217 Seaview (3br/2ba, 1400 sq. ft.) (pictured), a would-be flip/remodel in Manhattan Beach's El Porto section that hasn't exactly worked out as planned.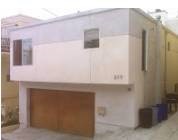 It's been on the market, on and off, for 5 years. Now it's a short sale. For more, see the Breeze or this post on Manhattan Beach Confidential. Also, you'll recall that last week's column focused on sales data for three major areas of the South Bay: the Beach Cities, Torrance and Palos Verdes. This week we look at other major areas: San Pedro, Carson and Gardena.
El Porto Remodel/Flip Crashes
For nearly five years, on and off, the remodeled home at 217 Seaview St. in Manhattan Beach's El Porto neighborhood has been for sale. First, in November 2004, someone bought a tired old duplex for $945,000 with plans to rebuild it. The potential upside must have seemed great. The housing bubble was still inflating at the time. While the rebuild was under way, a July 2005 listing for the property promised a "stunning" and "breathtaking" home that would be suited to "the fussiest of buyers." But the finished product, with three bedrooms, two baths and almost 1,400 square feet on a little alley street near the beach, never did attract a buyer — fussy or otherwise. The sellers tried to offer the redone home for $1,495,000 before it was finished. They bumped it up $100,000 to $1,595,000 once the remodel was complete in January 2006. The price came down to $1,520,000 by August 2007, along with extra enticements: a "lease-option" purchase opportunity, plus seller financing. The sellers got tenants, but no buyers. By May 2009, the home was back on the market for a little over $1,300,000. Still no deal over the next 15 months.
Last week, 217 Seaview hit the market at $849,000 as a short sale, meaning the lender who financed the rebuild could take a big hit. This little flip wasn't the most extreme story of failure born in the bubble years, but it may deserve a page in the book. Now someone could grab a home that's about four years new, near the beach, for under $900,000 – less than the home cost in 2004 – with a free head-to-toe rebuild thrown in. Five years after the house hit the market, someone may finally smell a bargain.
[UPDATE: The short sale didn't work on Seaview – a deal posted in August 2010 but the home foreclosed instead in December 2010, the bank posting a price of $810k for the repo.]
First-Half Sales in Other South Bay Markets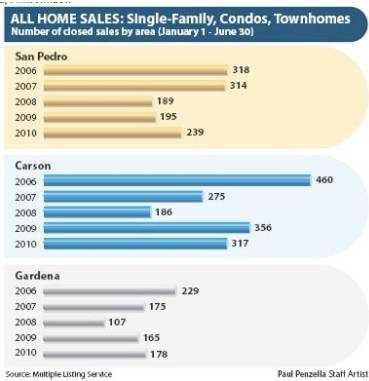 Last week's column reported on sales data for three major regions of the South Bay. But a few readers quickly asked: What about other neighborhoods? So this week we're looking at sales in San Pedro, Carson and Gardena, all major South Bay areas with hundreds of home sales each year. Once again, we're looking at closed sales reported to the Multiple Listing Service from Jan. 1 to June 30 in each of the past five years.
This week, I expanded the search from single-family homes only to all sales including condos and townhomes. The chart shows San Pedro following pretty closely with the trends we saw in last week's data on the Beach Cities (Manhattan, Hermosa, Redondo), Torrance and the Palos Verdes Peninsula. Like those markets, Pedro saw pretty good years in 2006 and 2007 — nearly equal at 318 and 314 sales, respectively. Meanwhile 2008-09 were slump years, with sales down about 40 percent. Also like those other markets, San Pedro saw a resurgence of sales in the first half of 2010, up 23 percent from last year, though still well short of the 2006-07 pace.
Carson and Gardena followed a different pattern over these five years. Carson slipped tremendously from 2006 to 2007 and again from 2007 to 2008. The total change, from 460 annual sales to 186 over two years, represented a whopping 60 percent drop in home transactions. Just as suddenly, home sales rocketed ahead in 2009, back up to 356 transactions. That was nearly double the 2008 total and 30 percent more than 2007. Lots of foreclosures and short sales are seen in 2009-10. This year, sales actually slipped just a bit from the first half of 2009. Gardena had fewer sales overall, so the drops and rebounds aren't as dramatic. You see more of a steady "V-shape," with a peak in 2006 at 229 sales, a valley in 2008 and some recovery again the past two years, up to 178 sales in the first half this year — slightly more than 2007.