Real Estate Supply and Demand in the South Bay
Posted by Dave Fratello on Saturday, June 18, 2011 at 10:06 AM
By Dave Fratello / June 18, 2011
Comment
Supply and demand out of balance, except at the beach
Summer officially starts next week, so let's take another look at how housing inventory is developing around the South Bay.
I provided the first snapshots of current inventory of single-family homes in February, right after the Super Bowl, and at the end of March. You normally expect a pretty steady upswing in both listing and sales activity in spring. One question is how balanced the number of new offerings is against the number of purchases.
Every market now offers more inventory than in early February, but one - Hermosa Beach - actually has fewer listings than in late March. Two of the most solid market regions, Torrance and the Palos Verdes Peninsula, are getting out of balance. Let's take a look at developments, market by market.
Beach Cities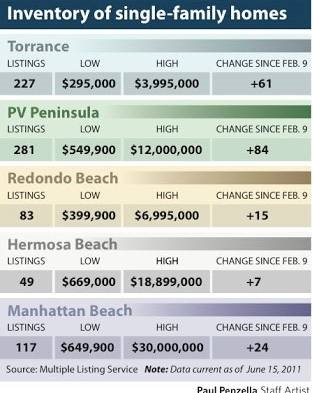 Of all the South Bay regions we'll look at, Manhattan Beach and Redondo Beach compare most impressively now to their respective market states in late March. Hermosa seems to be solid, too, making the coastal areas looking to be in good shape as summer approaches. (Ready to hit the sand?)>
With 83 listings, Redondo's got just two more actives now than on March 30, but there's also been a two-thirds rise in the number of pending escrows to 36. This means demand has closely tracked supply so far this spring.
Another way you see that balance is by dividing the number of pending deals by the number of offerings – at 43 percent, Redondo's got the best active/pending ratio in the South Bay right now. Finally, one big new listing has raised the ceiling in Redondo: instead of a $3.9 million property being the priciest, now there's one just short of $7 million.
Manhattan Beach has just seven more listings now than in late March, with 117, while seeing a near-doubling in pending deals to 42. The active/pending ratio is 36 percent, also a well-balanced figure. The town's priciest offering continues to be a $30 million double lot on The Strand.
Hermosa Beach inventory (49) is up by seven from early February, but down by five from late March, the only submarket with fewer single-family homes since that last update.
Torrance
In late March, I called Torrance "clearly the hottest" market in the area, but I can't say that now in mid-June.
At 227 single-family homes for sale, inventory is up 61 homes since February, and actually up more - by 73, or more than 36 percent - since late March. New escrows have not kept pace. There were seven more pending deals in mid-June than in late March, but the active/pending ratio was down to 40 percent from 51 percent previously. That's still a respectable rate, but not en fuego.
Combine the swelling inventory, slower absorption rate and the other numbers I reported last week on sale prices - with the number of sales down and median sale prices down - and we're starting to see notable weakness in Torrance, which had been a stalwart for a few years running.
Palos Verdes Peninsula
The Hill has seen a second big increase in active inventory, up to 281 single-family homes, compared with 197 in early February. This 42 percent jump in inventory is the biggest in the South Bay.
The share of pending deals was already low in late March, just 20 percent of the total inventory, and it's down now, too, to 17 percent.
As I had to say with Torrance, the Peninsula is looking slower than might be expected of a resilient market. Both of these regions are hinting at apossible slowdown to come, especially when compared with the beaches, where demand has stayed on pace so far this spring.
We'll take another look at region-by-region inventory near Labor Day to see if the beaches have held their own, or if demand has come back in line in the other areas.