RB's 'Village' Condos Really Moving
Posted by Dave Fratello on Friday, April 24, 2015 at 11:38 AM
By Dave Fratello / April 24, 2015
Comment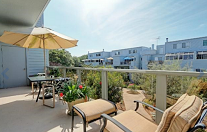 Down by the water, down by the pier, is a special little slice of Redondo Beach real estate – affordable condos in a community known as The Village.
In 2015, 12 of the Village condos have already closed escrow, and 3 more are in escrow as we write.
Among the three in escrow now is the biggest unit, and one of the priciest sales of the year so far: 210 The Village #202 at a list price of $719K. (Pictured above.)
Considering that a total of 26 Village units sold in all of 2014, we're looking at a speedy clip here in 2015. The Village is already on pace to surpass the total sales of last year in, perhaps, 9 months.
A look at some of the sales so far this year: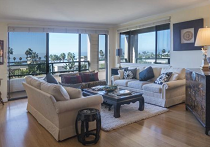 Highly upgraded 120 The Village #101 (2br/2ba, 1435 sqft.) hit $760K in a sale in March. (Pictured.)
At less than half that, the lowest sale of the year in the Village so far was at 640 The Village #101 (Studio/1ba, 410 sqft.) at $350K in February.
Redondo Beach Village Condos Sold in 2015
Here's a complete look at 2015's sales in the Village complex (click any unit for full photos & details).
#rb-active-condos-village-sold-15#
Redondo Beach Village Condos For Sale
Here are the active condos in the Village right now:
#rb-active-condos-village-blog#