Palos Verdes Best Beach Hikes
Posted by Dave Fratello on Friday, August 12, 2011 at 2:51 PM
By Dave Fratello / August 12, 2011
Comment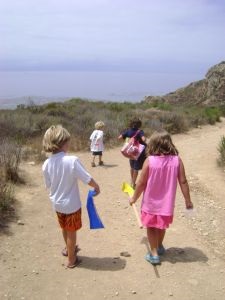 Did you know that some of the most spectacular beach hikes are within a quick drive of your house?
It's true, and if you're looking for a great way to spend a day with friends, kids, or even dogs, you should make these hikes part of your South Bay agenda.
Hike #1 starts from Trump National Golf Club in Rancho Palos Verdes. Don't be intimidated by the large fancy signs for this posh club; the hiking trails (and parking) are open to the public.
When you pull into the main driveway, follow the signs for public parking. Then head down the walking path down to the gazebo area.
If you go on the hiking path straight ahead, you'll find yourself on a steep path down to the beach, with many switchbacks. If you head to the left, you'll get on a more gentle sloping that nevertheless has amazing views.
It's about a 10-minute walk down to the rocky beach, where you'll find a naturist's delight: rock cliffs, tide pools, sea creatures, and a relatively uncrowded beach. Note: Dogs are currently allowed on this path and the beach.
Hike #2 starts from Terranea in Rancho Palos Verdes. Park in the public lots that are just adjacent to Palos Verdes Drive South; the path begins at the very edge of the parking lot.
This gently sloping, well-paved path is perfect for little kids or those who don't do much hiking - it has frequent rest stops and informational placards. Follow the path all the way around the resort (at one point you'll need to cut across a service driveway) to end up at another rocky beach.
This one isn't quite as "natural" as the one at Trump National, but we guarantee that you won't be hearing any complaints from your hiking companions.
How lucky are we to live so close to such incredible attractions? Happy hiking!