'Pacific Visions' Wing Opens at Aquarium of the Pacific
Posted by Jeanne Fratello on Monday, May 20, 2019 at 1:35 PM
By Jeanne Fratello / May 20, 2019
Comment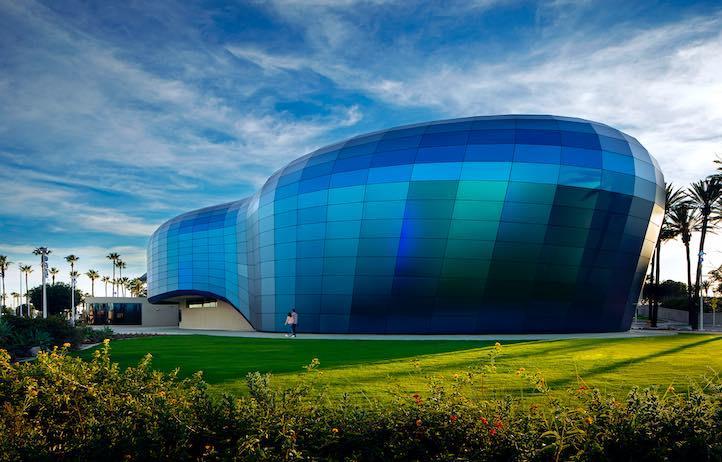 The Aquarium of the Pacific has unveiled its new wing known as "Pacific Visions" - an ambitious exhibit space that envisions a sustainable future.
The two-story, 29,000-square-foot wing houses an art gallery, a state-of-the-art theater, and high-tech interactive science exhibits. It aims to help visitors learn about our use and production of food, energy, and water - and how we can surmount the environmental challenges of our time.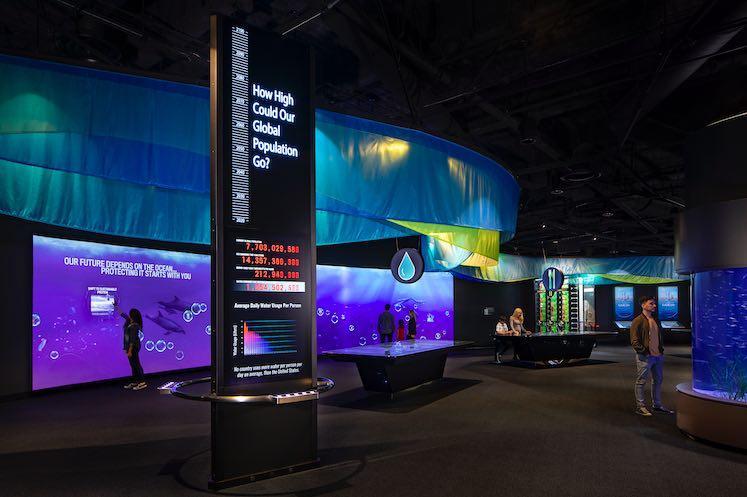 "Pacific Visions is unlike any other aquarium expansion project. We are taking a unique, unconventional approach in creating a space where the focus is on the one species that is affecting all others on earth: humans," said Dr. Jerry R. Schubel, president and CEO of the aquarium. "Pacific Visions is a place where scientists, policymakers, and the public can come together to explore solutions to create a better future for all."
Schubel added that rather than taking a "more space, more animals" approach, the expansion seeks to create new ways of thinking about our role as residents and stewards of the earth.
Representing more than a decade's worth of planning, the $53 million facility is covered with a striking blue glass facade. The more than 800 panels respond to changing light and weather conditions throughout the day with varying colors to mirror the effect of sunlight rippling on the ocean's surface.
At the entrance of the new wing, the experience begins with an art gallery that immerses visitors in nature's diversity and resilience through a multi-sensory experience. The current installation is known as "Reefs & Drifters" and features a touchable coral sculpture wall, glass sculptures inspired by plankton, and a collection of mirrored exhibits called Infinity Coral.
Next is an orientation gallery that features an 18-foot-wide virtual waterfall with interactive elements that respond to movement. A 26-foot-wide by 8-foot-tall LED screen then displays an 8-minute film of the history of life on our planet.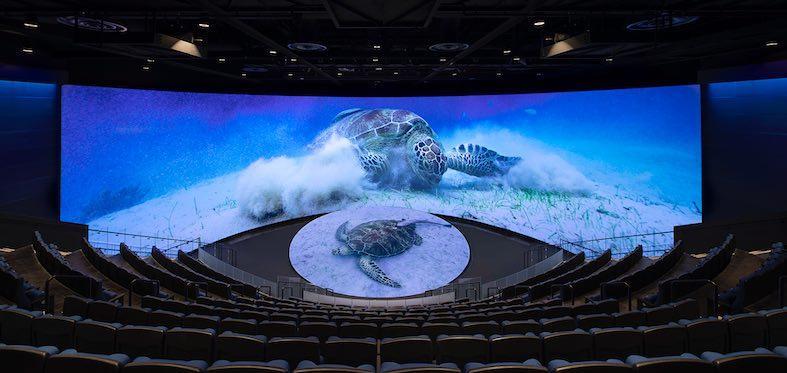 Visitors then move on to the crown jewel of the new wing, the two-story Honda Pacific Visions Theater. The theater boasts a 32-foot tall, 130-foot-long digital projection wall with a 180-degree arc; as well as a 30-foot diameter floor projection disc. An eight-minute film called "Designing Our Future" plays, while mist, wind, scent, and seat vibration features enhance the experience.
For deaf or blind visitors, the theater offers "virtual touch" devices (created by technology firm Ultrahaptics) that control ultrasound waves to create tactile sensation in mid-air. Visitors hold a hand over the device to experience sensations of bubbles popping, the rush of the ocean, and more. This is the first time this technology is being used to enhance film at an aquarium, zoo, or museum.
Last, visitors move to the culmination gallery, where they can experience a series of interactive game tables and video displays. There are three multiplayer interactive tables highlighting California's ongoing efforts to create resource sustainability, a 50-food interactive media wall that visitors touch to reveal facts and videos, and several hands-on experiments.
Also on display are three live animal exhibits, beginning with the delta smelt, a small 2- to 3-inch fish found only in the Sacramento-San Joaquin River Delta that is near extinction. An exhibit explains how this species and others are impacted by our use of natural resources and change to their habitat. Notably, the Aquarium of the Pacific is the first public aquarium to exhibit these fish.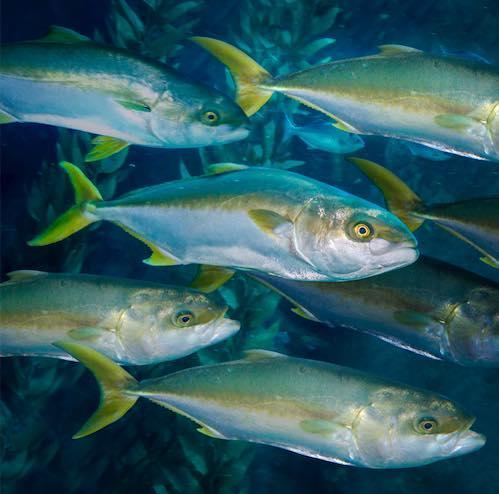 Next, the California Yellowtail is on display as an example of fish that could be sustainably farmed off the coast of Southern California. Additionally, an exhibit of Pacific and Olympia oysters illustrate the potential benefits of developing more oyster farms off our coast. Oysters filter pollutants like sediment and excess nitrogen out of the water at a rate of about 50 gallons per day as they feed. They also help stabilize shorelines to protect against high tide and sea level rise, and they provide habitat for other marine life.
After visitors go through the exhibit, they are invited to create a personal action plan for sustainability through the Pacific Visions EcoAlliance app. The app features a series of interactive challenges that inspire players to conserve resources, build a community, and collaborate on virtual projects.
"If there's a hero to this story, it will be all of us," said Schubel. "We have the choice of creating a glorious future."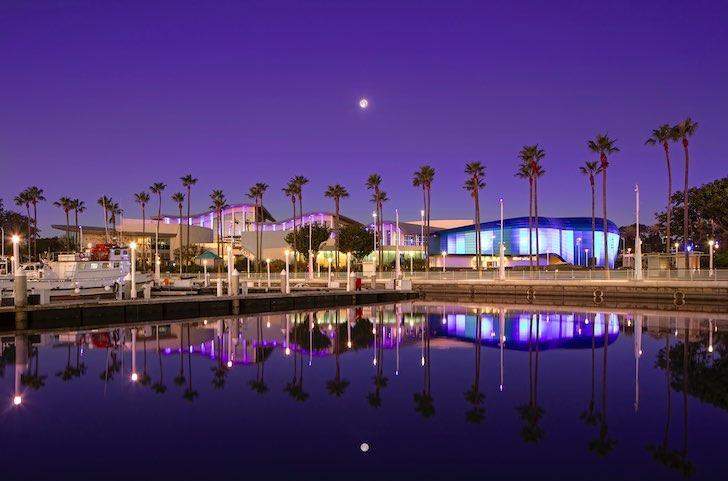 The Pacific Visions structure, designed by the San-Francisco-based firm EHDD, earned a Two Green Globes certification from the Green Globes building rating system for its water and energy conservation, use of environmentally friendly materials, and greenhouse gas minimization.
The expansion project was supported by the City of Long Beach with a $15 million matching grant, and also by a $5 million matching grant from John Molina and family, and $5 million from American Honda Motor Co.
Founded in 1998, the Aquarium of the Pacific features more than 50 exhibits and 11,000 animals representing the diversity of the Pacific Ocean. It is one of the most-visited aquariums in the United States, with more than 1.7 million visitors per year. The new Pacific Visions wing is expected to attract an additional 200,000 visitors per year.