'Nature Connects' at South Coast Botanic Garden
Posted by Dave Fratello on Thursday, March 17, 2016 at 11:03 AM
By Dave Fratello / March 17, 2016
Comment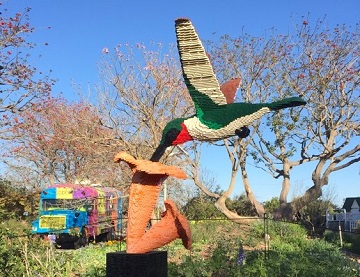 Imagine a walk through a beautiful garden where you round a corner and come face-to-face with...a bison? Not a real one, of course, but one entirely constructed from 45,143 Lego bricks. If that sounds like something your family would enjoy, bring them down to the South Coast Botanic Garden, which is now hosting a family-friendly exhibit of fun, flowers and fauna known as Nature Connects. This interactive art installation entirely constructed from nearly half a million toy bricks brings 27 nature-themed sculptures to the garden, along with multiple hands-on activities.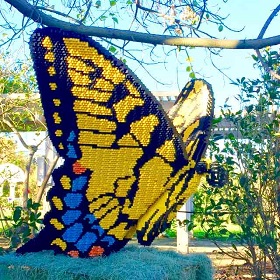 "We are the first botanic garden in Southern California to offer this one-of-a-kind and engaging artistic vision, representing a whole new way to experience nature through art," said South Coast Botanic Garden Foundation CEO Adrienne Nakashima.
"In bringing Nature Connects to South Coast Botanic Garden, we hope to share the importance of making connections with the natural world. More importantly, with the garden's commitment to providing a unique horticultural and wildlife habitat experience, we want to demonstrate successful land reclamation and sustainability through the familiarity of Lego toy bricks."
The sculptures, created by New York based artist, Sean Kenney, took seven months to build. The pieces are all incredibly detailed and assembled exclusively using the popular connecting toys. They range from a 575-piece statue of a goldfinch, to a hummingbird, the symbol of the South Coast Botanic Garden, which requires 31,555 pieces and stands more than six feet tall. Each sculpture also contains a fact card on the sculpture itself, and on the subject of the sculpture (for the fox and the rabbit, the text explains how the fox helps keep the ecosystem in balance while preying on the rabbit).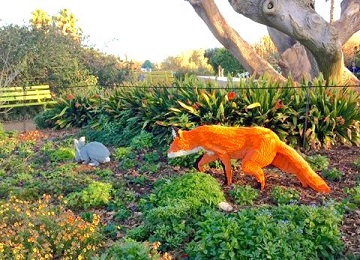 The South Coast Botanic Garden is the only Southern California stop for this nationally touring exhibit, which will be on display through May 8, 2016. The exhibit is included in the cost of regular admission (adults, $9; students and seniors, $6; children ages 5 to 12, $4; children under age 4, free); however special timed-ticket controls are in effect during the Nature Connects exhibit. Tickets are available online here.
Located in Palos Verdes Estates on a lush 87 acres, the South Coast Botanic Garden has more than 2,500 different species of plants. The garden's mission is to serve the community by providing a unique horticultural and wildlife habitat experience, and to represent a model of excellence for land reclamation and sustainability. It is a public garden co-operated between the County of Los Angeles, Department of Parks and Recreation and the South Coast Botanic Garden Foundation. For more information, see www.southcoastbotanicgarden.org.