Moving to Manhattan Beach: The Neighborhood Crash Course
Posted by Dave Fratello on Friday, May 20, 2016 at 2:34 PM
By Dave Fratello / May 20, 2016
Comment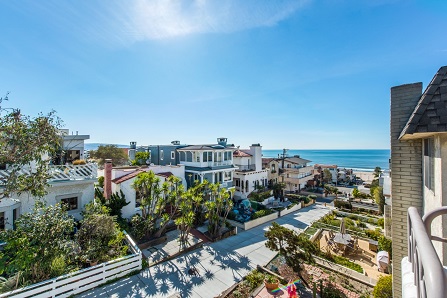 Manhattan Beach is one of the best towns in the beach cities to call home. Thanks to its gorgeous beaches and convenient location, it is a favorite for many families, including film professionals, professional athletes and technology and financial industry commuters who must travel for work often.
Surrounded by beach, offering a charming downtown and near-perfect weather, Manhattan Beach homes are some of the most sought after in the South Bay. Each neighborhood within Manhattan Beach can be as unique and special as the South Bay region as a whole.
The Sand Section
The Sand Section of Manhattan Beach is the area along the coast where home buyers may enjoy the incredible beach landscape, but typically find smaller lots and relatively higher prices. Lots here are generally less than 3,000 square feet and parking can be quite scarce for residents and potential visitors. Many of the homes in the Sand Section have ocean views. With the density of beach development, this area also has a great deal of multi-family rental housing property.
#manhattan-beach-homes-sand-section-blog#
Click to see more Sand Section Homes
Downtown Manhattan Beach runs along Manhattan Beach Boulevard and consists largely of commercial developments, so it offers easy access to your most frequented locations. Appropriately named, the Gaslamp section is characterized by the quaint "home-town" feel of gas lamps located between Blanche Road and Grandview, from 21st Street to 24th Street.
True beach junkies with deep pockets to match might try to find one of the few remaining homes for sale on The Strand. These homes are the closest available to the beach and offer up-close views of the breaking surf.
Highland Avenue is a dividing line for property values closest to the beach. West of Highland homes typically are much higher in land value than those east of Highland. The South End Walk Street homes all have front patios along car-free streets, making for a great neighborhood feel. This neighborhood is popular with families because of the lack of traffic. Sloped walkstreets offer ocean views.
The El Porto district is located just north of 38th street between El Segundo and the ocean shoreline. It is part commercial and part multi-family properties and has the highest density of residential development in Manhattan Beach.
The Sand Section is also home to three parks in Manhattan Beach: Bruce's Beach Park right in the middle of town, and both Sand Dune Park and Live Oak Park along the border with the Tree Section.
Tree Section
As the name suggests, the streets in this part of town are all named after popular trees. Buyers might find Tree Section of Manhattan Beach most desirable because it is one of few locations in the city where homeowners can have something of a backyard, while still residing only a short walk to the downtown section and the beach. There is also free street parking for guests.
#manhattan-beach-homes-tree-section-blog#
Click to see more Tree Section Homes.
Hill Section
The Hill Section of Manhattan Beach real estate is the lap of luxury. Hill Section offers the greatest concentration of large, multi-million dollar estates on larger lots, often with views. As a result, there are far fewer vintage beach cottages here than you might find in other parts of town.
On the west side of the hill, the homes have panoramic ocean views from Palos Verdes to Malibu. On the east side, some homes have views of downtown Los Angeles and the mountains.
#manhattan-beach-homes-hills-section-blog#
Click to see more Hill Section Homes.
Manhattan Village
The Village is Manhattan Beach's only gated community, offering a quiet, community atmosphere and a mix of property types. Many of the properties have been upgraded and include townhomes and some single-family "estate homes," whose lot sizes range up to 11,000 sqft.
#manhattan-beach-homes-village-blog#
Manhattan Heights/Liberty Village
Located in East Manhattan Beach, the Manhattan Heights and Liberty Village areas are known for their relatively flat terrain and homes built from the 1950s-1960s. This area includes the local Polliwog Park, where lots of families can be found enjoying picnics, playing and working out.
Mira Costa Section
Also in East Manhattan Beach, The Mira Costa Section is named for nearby Mira Costa High School, the only high school in the Manhattan Beach Unified District. This hilly section of the city offers homes with city light views and a quiet, family-oriented neighborhood. The Mira Costa section is just minutes from the beach and downtown MB.
Would you like to see other Manhattan Beach Homes For Sale? Click Here to view more.