More Than a Jackpot on the Hermosa Beach Strand
Posted by Dave Fratello on Saturday, June 26, 2010 at 3:22 PM
By Dave Fratello / June 26, 2010
Comment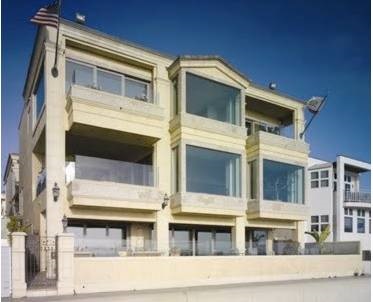 The focus of the column this week is 2909 The Strand in Hermosa, a $25 million home on a double-lot that reaches 35 feet in height – 10 feet higher than you can build these days. (Click the address for more pics & details via Redfin.)

Three recently sold new-construction homes in the Tree Section: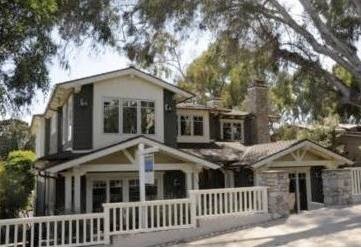 768 31st St. (5br/4ba, 5200 square feet) (pictured), a Craftsman-inspired home which sold for $3,200,000.

660 33rd St. (5br/6ba, 4750 square feet), a big Spanish that sold this year for $1,990,000.

645 9th St. (6br/6ba, 7750 square feet), an enormous, certified "green" house that sold for $6 million.

Someone hit the Super Lotto jackpot a week ago, but even that $10 million prize wouldn't be much help in buying 2909 The Strand in Hermosa Beach.

With a list price of $25 million, the home's meant for someone living on a whole different plane of existence.

I recently toured the beach palace, though, and was glad to see a celebration of South Bay beach life.

Huge windows across all levels capture live action – volleyball, surf and sand. The master bedroom also gets terrific views of Manhattan's pier and Malibu to the north. The ground level's ample, wide patio is even with the Strand, creating the (temporary) illusion that the owners and their guests are literally on the same level as the passersby.

Contrast this with other pricey parts of the L.A. area – Beverly Hills, where mansions lurk privately behind tall gates; Malibu, where beaches are technically public, but don't always feel like it; or Venice, where perhaps the notion of a public beachfront sometimes goes too far. I'll take Hermosa or Manhattan.

2909 The Strand was built in the late 1990s on a lot that's nearly double-wide, and the home's also taller, at 35 feet, than most homes around it – you're capped at 25 feet now in Hermosa. What's here now can't be duplicated.

The current, outgoing owner refashioned the home with a beachy style you might call Tommy Bahama plus Four Seasons. There are 7 bedrooms and 9 baths within nearly 10,000 square feet of living space, but in my tour it was a blur of big, open entertaining spaces plus several bedroom suites worthy of a 5-star hotel. The master bath is like a glorious temple, a huge, marble room with a big skylight that opens mechanically.

Every time we saw something awe-inspiring, my guide would say, "You think this is the ultimate, but you haven't seen the best part yet."

On the roof deck, I realized what he meant. It's a resort unto itself, with space for 50 or more people, a bar, grill and hot tub. And because the home is so tall, the roof soars above all neighbors. A party up here would be like a sun-drenched helicopter ride above the South Bay.

The next-highest-priced Hermosa Strand listing today is at $16 million, and most sales are much lower.

So I had to ask: $25 million, for one house? Surely that must be inflated.

But the price hasn't dissuaded the two buyers now angling for the property.

(For more see: www.2909thestrand.com.)

Last Few New Homes Sell in MB

When home prices are in an up-cycle, parts of the South Bay start new building cycles.

In my hometown of Manhattan Beach, we saw more than 500 new single-family homes built and sold on the open market in this decade, and that's just west of Sepulveda. Mostly, big, modern spec homes replaced smaller 1950s and 1960s homes, often selling for $2 million or more when complete.

The building cycle that birthed these new homes is over now, though. The last few new homes are finally finding buyers.

So far this year, 10 new builds have made deals, including:
768 31st (5br/4ba, 5200 sq. ft.), a Craftsman-inspired home on one of the Tree Section's great tree-lined streets, sold for $3,200,000, quite a bit below the start price of $3,775,000 and well below the rumored first offer of $3.5 million.
660 33rd (5br/6ba, 4750 sq. ft.), a big Spanish that ran 16 months on market and went back to the bank, finally sold this year for $1,990,000, more than a million less than its start price.
645 9th (6br/6ba, 7750 sq. ft.), an enormous "green" house (nonsequitir alert!) that cut $1.95 million but still sold for an impressive $6 million.
They say you'll know the market is truly headed up again when the builders return. But we're still waiting for that. There are no solid reports of builders buying lots nowadays to use for new spec projects, except right at the beach, where values are always higher – though rarely near $25 million.