Metlox 'Blue Dog' Honors Manhattan Beach History
Posted by Dave Fratello on Wednesday, May 20, 2015 at 9:54 AM
By Dave Fratello / May 20, 2015
Comment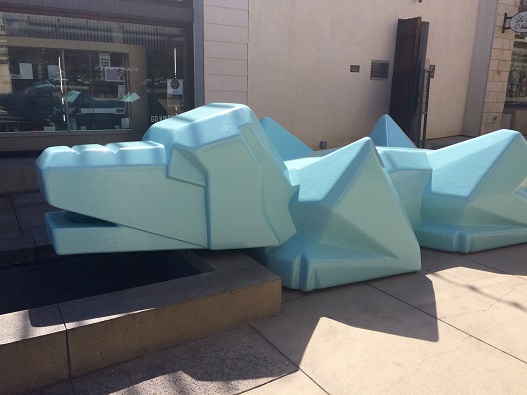 Manhattan Beach locals are accustomed to seeing the iconic red dog sculpture at the gateway to the Metlox office and retail complex. But after a recent repair and repainting job, the dog is now blue, in an homage to the Metlox pottery manufacturing facility that formerly stood in its place.

Martin Betz, cultural arts manager for the city of Manhattan Beach said that while researching the background of the dog sculpture, he learned that that the distinctive new blue paint color has a special place in Manhattan Beach and Metlox history.
The Metlox complex is built on what formerly had been the site of the Metlox pottery company, from 1927 until 1988.

In the 1930s, the Metlox company created a line of small Cubist-style dog figurines, which the now-iconic Metlox dog was modeled after. Those original figurines were painted in turquoise blue, black, and white.

When the Metlox dog sculpture made its first appearance at the Metlox office complex in 2004, it was painted red. But over time that paint degraded and needed a refresher.

As the city prepared to repair and repaint the dog, Betz read about the original Metlox dogs and learned about the authentic colors.
"I thought, why don't we just paint it in one of the original colors?" said Betz.

And so it is. The Metlox dog is now repaired and boasts a new coat of a special turquoise epoxy paint, which is expected to be sturdier and longer-lasting than the red paint.
As a blue dog, it gives a proud nod to both its "creator," Metlox, and to the history of Manhattan Beach.