MB5K Brings Runners to the Beach
Posted by Dave Fratello on Monday, June 22, 2015 at 4:12 PM
By Dave Fratello / June 22, 2015
Comment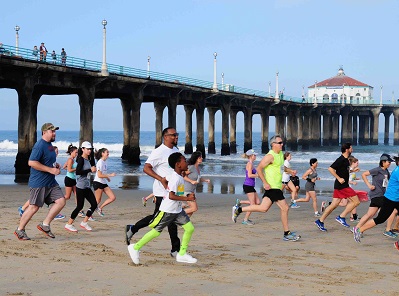 Twice a year in Manhattan Beach, runners ring in the season with a popular 5K run along the beach.
Timed to go with "ultra-low" tides, the MB5K is run on flat, wet sand with waves breaking nearby. It's a unique South Bay experience.
This year's first run was June 20, near the Summer Solstice.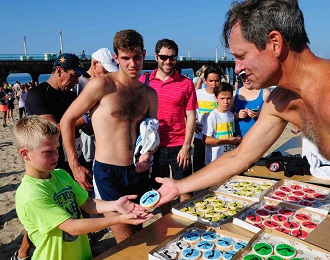 Several hundred runners came out bright and early for the 5K plus a series of kids' races, from a 1K down to a short stretch of sand for the "crawlers" division.
The race's famous "Edible Medals" are frosted cookies made by a local bakery that's an institution unto itself: Becker's. It's not just the kids that chomp those down.
The MB5K is an even bigger draw every December, near the Winter Solstice on December 21, when the MB5K becomes a nighttime race.
Just after sunset one Saturday night each holiday season, about 800 runners come out to run wearing glowsticks (provided by the race organizers), flashing lights and seasonal costumes.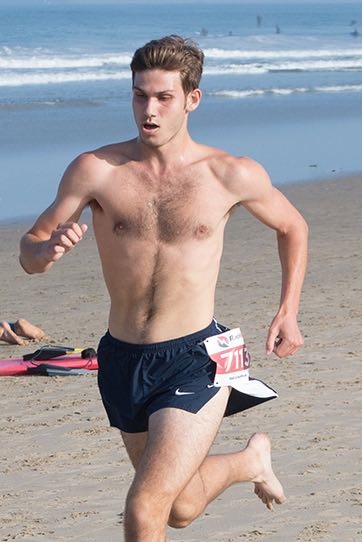 While there are plenty of runners out for a quick, fun run in a scenic setting, the 5K races draw serious runners, too. Saturday's race was won by recent Mira Costa High School graduate Jacob Helfgott (pictured), who came in at 17:08, a blazing 5:31/mile pace.
Many runners find that the wet sand slows them down just a tad, but not all!
Watch for the next MB5K in December. To stay in touch, just "like" the MB5K on Facebook.