Little Free Libraries Flourish in the South Bay
Posted by Dave Fratello on Wednesday, November 4, 2015 at 10:58 AM
By Dave Fratello / November 4, 2015
Comment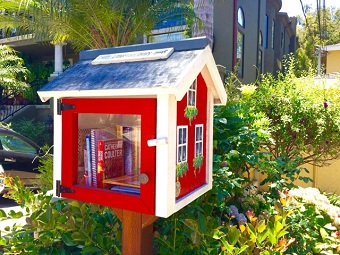 Looking for a great read? In the South Bay, a good book is never too far away, with a growing number of Little Free Libraries sprouting up around the area.

The Little Free Library is an open book collection that operates under a "take a book, leave a book" policy, with a goal of encouraging community literacy. These independently run mini-libraries are displayed on distinctive little stands in front of homes and in public spaces. As they take root in their respective neighborhoods, the Little Free Libraries often become popular gathering spots where books are exchanged and conversations are sparked.

"It's a very community oriented thing to do," says Kathleen Terry, who has a Little Free Library outside of her Manhattan Beach Tree Section home.

Terry, like many Little Free Library owners, saw the concept in operation elsewhere and decided she wanted to run one too. She received a library kit as a Christmas present, decorated it, and launched what became a very successful neighborhood mini-library.

"It's been amazing - I can't tell you the amount of turnover I have on books," says Terry.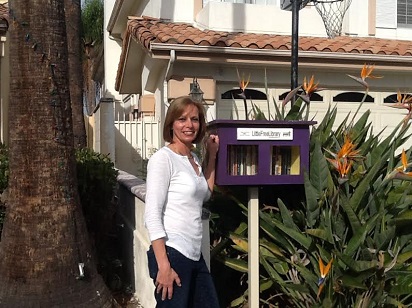 Chris Primm, who owns a Little Free Library in East Manhattan Beach, started in a similar way. She decided she wanted one for Christmas and her whole family got in on the act: Her husband found building plans online, her son built it, her one daughter decorated it, and her other daughter collected the books.

Primm, who works as the school librarian at Meadows Elementary School in Manhattan Beach, says she has been thrilled with its success: "It has been very popular in our neighborhood, especially with children as they already know me from school. They are always excited to tell me that they picked up or dropped off a book at my little library. The books change frequently and I often need to restock with donations, especially the children's titles," she says.
Dayna Allen, who has a Little Free Library in Redondo Beach, has had a similar experience. "My house is en route to Tulita Elementary School, so many parents and children stop by on their way to and from school. I also get visitors from other cities and states who are visiting Redondo Beach and have looked up Little Free Libraries on the worldwide map and left a lovely gift of books," says Allen. "My inventory tells me that more people take a book than leave a book. As long as people are reading, I'm happy to supply books."
Jessica Collaco of Redondo Beach has an interesting story about how her family started its Little Free Library: "When my oldest daughter was 5, she saw another Little Free Library in our neighborhood and was interested in having one. We brainstormed ways to raise funds to build one. Upon the advice of her kindergarten teacher, she applied for a grant from The South Bay Chapter of The Awesome Foundation and received $1000 to build the one that is in front of our house, as well as three more for that are used on campus at her school." The libraries have been in use for a little more than a year, said Collaco.
Further up the hill, Carrie Lane received her Little Free Library as a housewarming present when she moved into her home in Rancho Palos Verdes. "Especially in the beginning, having the library was a great way to connect with our new neighbors," said Lane. "I've always been a big reader, and I was excited to share the books I love with my community. Before we installed the library I gathered my favorite books for all ages, from Frog & Toad to Harriet the Spy to novels by Michael Chabon; then I had a grand opening party with cookies and lemonade."
Lane adds that people come by her library a few times a week, and children's books seem to go especially fast, given that the library is near an elementary school ."I check the library every few days and I'm always excited when I see new books because it means other people are also eager to find and share good books," she said.
Collaco of Redondo Beach adds that the libraries do best when the entire "village" embraces the library: "The library only stays useful and interesting when we all contribute to keeping the books circulating," she said. "There have been times when the library is almost empty and a box of books just shows up on our doorstep or more books arrive overnight. There is an unspoken agreement that we all have to keep the books circulating and it makes me happy to know we are all working together to keep it going. I have never considered that the library belongs to us, it really belongs to the community."
The Little Free Libraries do not cost anything to operate, except for the time and effort to collect and manage book collections. However, to be a certified member of the Little Free Library national network, library owners pay a one-time fee of $40 to be listed in the directory and to receive support materials.
You can find a full map of Little Free LIbrary spots around the South Bay on this searchable map.