Listing Descriptions: All that Glitters is Not a 'Fixer Upper'
Posted by Dave Fratello on Saturday, October 9, 2010 at 1:43 PM
By Dave Fratello / October 9, 2010
Comment
We're quibbling with the language used to describe a couple of newer listings. One suggests it's by the beach, but it's a mile away. (That's 509 N. Prospect in Redondo Beach.) Another says it's a "fixer," but an honest appraisal would be that the home's a wreck that needs to be scraped and something new built in its place. (1801 Elm in Manhattan Beach.) Finally, I looked back at one listing description from a few years ago that I just loved.
Interesting to note: The Breeze found it necessary to drop the addresses of the 2 properties whose listing language I challenged. We probably could have worked out the dispute but we were on deadline. Live and learn. For what it's worth, 509 N. Prospect now has a deal, but we're guessing that the buyers figured out it's not really at the beach. Can you really get a good-sized single-family house near the beach for $650,000? That's the promise at a new listing in Redondo Beach.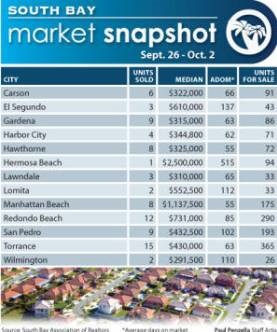 The house is somewhat more than a mile from the coastline, but the listing begins, "Here is your chance to finally live at the beach." "At" the beach?
Beach amenities are referenced in the description of the listing, but they're not really near the house. "Hermosa Beach" even appears in the description, though the home is in neighboring Redondo. There's talk of "fabulous West Coast sunsets," but the home faces east onto a reasonably busy artery. It looks rather directly at a medical building, never a sunset. Maybe you're getting the drift here. You can't get a beach-close single-family residence for $659,000, the house's current list price. (The home has three bedrooms, two baths and 1,730 square feet.) But you can get a house in the city of Redondo Beach for that amount. So that's something. We might have raised the same questions about the home when it was listed for nearly $750,000 earlier this year, starting in late January. But back then the description was perfunctory. Since boring didn't work, it looks like they're trying a new tactic this round. Now you can practically hear the sea gulls squawking. When a `fixer' needs everything we can also debate what condition a home needs to be in to merit the label "fixer-upper" versus something else.
I should say first that I'm all for preserving and updating older homes. My hometown of Manhattan Beach is one that's seen a constant cycle of demolish-and-replace over the decades, and especially so in the past 10 to 20 years. Older beach cottages with some charm have been demolished with abandon, replaced with increasingly cookie-cutter new homes. But sometimes you see an old, tired home and you know that it's got nothing left to give. That was my reaction to a listing in Manhattan Beach when it hit the market late last year. It was a grim house with a grim story, falling apart with collapsing ceilings, horribly stained carpets and bathrooms, tree branches growing through the windows, and evidence of termites having enjoyed a long, long run unimpeded. To compound matters, the previous owner died on the premises last year, giving rise to a probate sale in late 2009. Someone bought it at an auction, closing the sale in April of this year for $805,000. Having considered a big remodel, the buyer instead decided to offer it back for someone else to do the work. The listing blares that it's a "FIXER UPPER!!!" and "Great Opportunity with Huge Potential to Remodel." They're asking $850,000 now, a markup of $45,000. I have to say that last year this was a lot sale, and it remains so today. If we're going to lose an old cottage to a bulldozer, this is the kind of place you expect to see turned under. The potential to remodel seems a pipe dream. Just ask the current owners. A longtime fave: `Animal Magic'.
Since we're talking about listing descriptions, I'll recount what has to be one of my favorites of recent years. It was three years ago that an agent wrote of a beach-close (really!) home in Manhattan Beach: "This delightful Mediterranean home with panoramic ocean and hillside views has been transformed through an enchanting fusion of color, texture and animal magic, into a warm and fun-loving home environment that you must experience." Now that is writing. I cannot tell you, even after contemplating it for some time, what "animal magic" means in a home. It's probably good, especially if there's an "enchanting fusion of color (and) texture," too.
But I do remember the description! And yes, I also remember bamboo and bright paint colors and leopard-skin prints and deep reds something vaguely tribal that overtook me briefly when I toured the home.
Alas, it never did sell. So much for clever marketing.