Just How Much Dirt Do You Need?
Posted by Dave Fratello on Saturday, April 16, 2011 at 2:42 PM
By Dave Fratello / April 16, 2011
Comment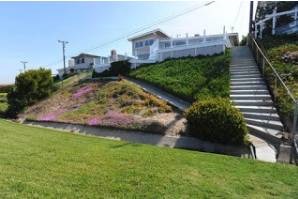 I still get a little giggle each time I review a new home listing online, or on a flier, and see the data field labeled, "Horse Property."
The answer has been "no" about 95,000 times now. Often the question seems absurd. Horses? By the beach? In the city?
I'll grant you, here in the South Bay you will find a smattering of "horse properties" up on The Hill. That's great for the equestrian set, but the rest of us are expecting that our homes will be on fairly modest parcels of land. If you have space for a vegetable garden, you're lucky. If you can throw a baseball to a teenager in your yard, you're upper-echelon.
Lot size is relative. Let's see what you can do with more-than-the-average space in a few parts of the South Bay.
A half acre on the Riviera
The listing description for 511 Paseo De La Playa in Torrance's Hollywood Riviera memorably notes that there are "no buildings between you and Hawaii" from the home's blufftop perch.
Not only does the home boast spectacular ocean and coastline views, it's also got more land than you'd expect. The square footage totals more than a half acre (almost 22,400 square feet), though some of that consists of hillside that isn't of much use. What's great is the large, flat grassy patch - a yard that's uncommon among these beach-facing properties.
So not only do you have Torrance beach below for your sand- and water-based activities, you've got a yard for land sports - it might make a nice putting green, in fact.
There's also a house attached - a four-bedroom, three-bath, 3,100-square-foot home with an early-'60s build date and some updates since. The list price is $4 million, the highest price in Torrance and the surrounding area.
Note: The land is currently leased with an option to purchase in 2014.
NASCAR fans' dream home
You think big lot, you think grass and open space, right?
But some folks need a place to park vehicles. Lots of vehicles. And a professionally outfitted garage to work on them. And those folks have an option in north Redondo Beach.
2909 Spreckels Court is being pitched to "off-road enthusiasts with lots of toys." While the interior (three bedrooms, two baths, 1,150 square feet) is updated and upgraded, it's the exterior that makes the sale. The lot's quite nearly 10,000 square feet, at the end of a cul-de-sac with access to a fully paved play area where, the listing says, you could park "several RV's, a ski boat" or a few pickup trucks.
The home - and plus-size garage - are offered for $669,000.
Two are better than one
Among the priciest real estate in Los Angeles County, let alone the South Bay, are beachfront properties in Manhattan Beach. The most recent sale - a big '80s-built architectural modern at 1600 The Strand - was for $10.9 million.
It's the land value that's driving prices at the beach. Add something unique and scarce, a double-lot on The Strand, and you might see another record-breaking sale this year. Right now 2020 The Strand is offered jointly with 2016 The Strand for $30 million. Though you'll find some decently remodeled rentals on the land now, the market they're trying to find here is for buyers who just want the dirt. [UPDATE: By late June, the price was at $27 million.]
Two's the max in Manhattan Beach these days, by the way. After a triple-lot home went up on Manhattan Beach's Strand, the city changed its rules and now won't allow more than two Strand lots to be built up together.
Bring your horses
Of course, if you need a "horse property," they do exist. Up on The Hill right now there are 16 listings designated as "horse properties," ranging in size from a quarter acre to more than 6 1/2 acres. To hitch up and roam the wilds, expect to pay between $1.7 million and - gulp! - $12.8 million.