How Many Pieces of Silver for That Condo?
Posted by Dave Fratello on Saturday, July 10, 2010 at 2:22 PM
By Dave Fratello / July 10, 2010
Comment
The story today concerns the Silver Spur Court condo project, which flopped and heads to auction this Sunday. (This photo is from one of the units with 2-story high ceilings and a frontage on Silver Spur; they say this unit could be mixed commercial/residential, but I don't quite see it.)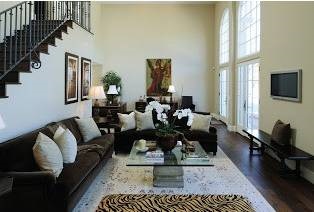 For more information and a brochure, see: www.silverspurcourtauction.com
Note that this Rolling Hills Estates condo auction is wrapped up with another auction in Pasadena in the promotional materials – confusing at times.
Condos! Condos!
Come and get your cheap condos!
That's roughly the pitch for 18 newly built units in Rolling Hills Estates headed for auction tomorrow. The Silver Spur Court condo project flopped when it was brought to market a couple of years ago. At the time, the units were offered for prices ranging from $930,000 to $1.7 million. Now, the auction's come-on prices average one-third of those long-forgotten start prices. For instance, unit 8, known also as 975 Silver Spur Road, first hit the market at $1,255,000. The auction price is $395,000, or 69 percent off that stratospheric beginning.
Whether or not you can actually get these condos for those giant discounts, there's still something attractive and different about the complex that's driving interest in the properties now. The Spanish-style building, launched as an ambitious luxury development four years ago, features lots of open, common outdoor spaces, including a large terracotta-tiled courtyard, grand staircases and another lushly landscaped area that feels like a private yard off a few of the units. Every unit is different, though they share design elements: dark-stained hardwood floors, modern kitchens, snazzy fixtures, spacious rooms. Wrought-iron railings adorn the stairways. Most units have fireplaces and some kind of private outdoor space — a roof-deck patio here, a narrow and grassy yard there. A few have hillside views.
They'll tell you that each unit cost $1 million or more to build, when considering land and construction costs. But buyers stopped short of paying $1 million or more. In fact, none sold. It's understandable. For one thing, the real estate bubble popped between the green-lighting of this project in 2004 and the first time the condos were offered for sale in mid-2008.
Moreover, dense development is something new for the area. Single-family homes are the norm in Rolling Hills Estates and surrounding communities, not tight-knit condo complexes. And the location for the new condos, at the corner of Crenshaw and Silver Spur, means that traffic is noticeable from several units. The site, formerly home to a McDonalds, also backs up to a large post office building. Why build condos here, then? The Silver Spur Court development is part of the original "Peninsula Village" plan to turn the immediate area into a "European-style village" that combines shops and residences. (A series of mini-malls joins a full-blown mall a few blocks down the road.) Though the massive plan has been scaled back, a few residential projects remain. Back in September 2006, when the Silver Spur project first broke ground, one of the developers told the Palos Verdes Peninsula News, "We think it's going to be kind of a landmark for Rolling Hills Estates." It probably didn't occur to anyone that every unit would fail to sell and would head to auction instead.
It's too bad to see such a strike against this sort of infill development. Moving some "smart growth" up the hill is an innovative concept. You could see some empty-nesters or young professionals loving the urban groove if it develops fully over time. But this project was timed terribly, launching late, building slowly and finishing up during a real estate crash.
The big question is: What are these condos worth today? They're hard to compare to much nearby. On Sunday, we'll find out. There are plenty of registered buyers. The sellers have set minimum ("reserve") prices for the condos that are likely above those start prices — we don't know, as the reserve prices are known only to the auctioneers. But if auction buyers go above those minimums, we'll finally see the first sales at Silver Spur Court, and the first residents in the months to come.
I'll report back after we see what goes down.