Fly Like a Bird Over the South Bay
Posted by Dave Fratello on Monday, March 30, 2015 at 4:04 PM
By Dave Fratello / March 30, 2015
Comment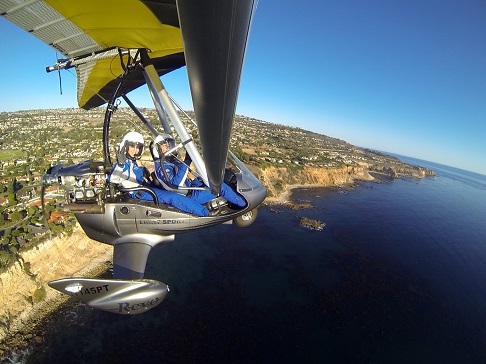 Maybe you've seen a little V-wing plane, looking something like a hang glider or ultralight, flying around the South Bay in recent months, taking scenic excursions.
Turns out, you can hop in for an intimate, low-altitude flight – any time.
Pacific Blue Air LA flies the state-of-the art Revo Evolution aircraft, an open-air two-seater Light Sport Aircraft that owner Courtney Brin likes to refer to as a "motorcycle or big jet ski in the sky."
The flights aren't just tours: Passengers are taught how to fly the craft, and are encouraged to take the controls. Each flight is a lesson, typically with Pacific Blue Air LA's chief flight instructor, Henry Boger. Pacific Blue is based conveniently at the Hawthorne Airport.
Flying in the Revo Evolution craft is "a serene and surreal kind of feeling that is so unique," says Brin, who discovered the magic of LSA flight while on vacation in Hawaii.
"When I was a young girl, I wanted to fly like a bird," Brin said. "This is as close to that as we can actually get."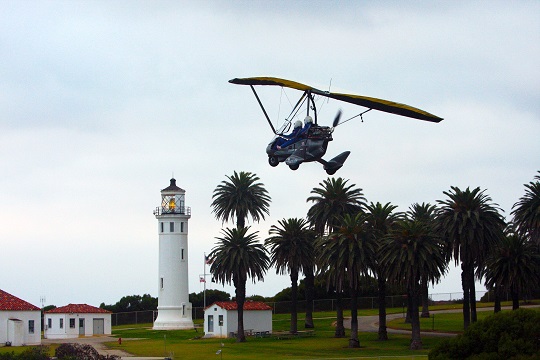 Students have the option of flying the LSA or not. Brin says most people love the experience of flying the LSA, of realizing they are truly flying an aircraft as they soar over land and sea, controlling its up and down movement and speed.
Henry, who is a certified Federal Aviation Administration instrument-rated private pilot who's flown jets, planes and helicopters, is the kind of guy who loves adventure with a resume to prove it: Master parachute rigger, skydiving instructor, sky surfer, aerial photographer, PADI scuba dive master and world-renowned BASE jumper.
Pacific Blue Air LA's instructional flights are available in 30-, 45-, 60- or 120-minute time increments.
Almost daily, the aircraft can be seen flying over prime real estate in Manhattan Beach, Hermosa Beach and Redondo – sometimes multiple times a day. Student pilots sometimes try to find their own homes from a low altitude. Last week, one student took an "epic" two-hour flight, Brin says, soaring over the Palos Verdes Peninsula, downtown LA, the Griffith Park Observatory, Dodger Stadium and Malibu.
Brin and her staff work with students to determine what geographic area(s) their introductory lesson will cover. Students are outfitted with a flight suit and helmet. Closed toes shoes are a must, no one over 250 lbs. can fly and no loose objects such as cameras, cell phones and the like are allowed.
Pacific Blue Air LA has the added benefit of Courtney and Henry's film industry experience. Students who take to the air in their LSA have the opportunity to purchase photos and edited video footage of their experience, captured by two video cameras mounted at different angles on the aircraft. Video is edited by a professional, who adds music.
The FAA created the LightSport Aircraft category in 2004 along with the Sport Pilot License, which essentially takes half the amount of time to complete the requirements than does a higher pilot rating. Sport Pilots can be trained in a matter of weeks, versus months, and all hours logged sport flying can be applied toward higher pilot ratings, like the Private Pilot License. The Sport Pilot License restricts recreational flying to daytime, good weather and uncongested airspace.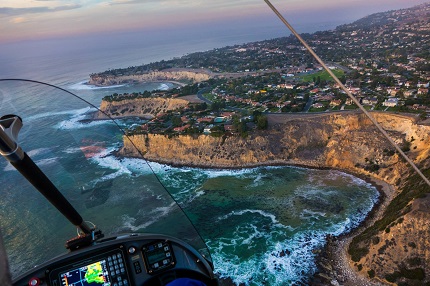 Pacific Blue Air LA flies a Revo Evolution "Trike," a weight-shift controlled aircraft with a 100-horsepower engine, wheels and wings. Given their design, trikes have the ability to fly low and slow, as slow as 30 MPH and close to the ocean/1,000 feet over land. That ability creates a magical experience.
"Being that close to the water, sea life, seeing hidden beach coves, big beautiful cliffs. It's really an amazing sweet spot," Brin said.
Migrating whales have been the predominant sighting of late. In addition to whales and dolphins, students have seen sharks.
Brin said a recent student flew all the way to Catalina Island and basically had an "open-water adventure lesson."
Open since January 2014, Pacific Blue Air LA plans to add a second LSA in a month or so to accommodate its growing clientele. The idea behind the addition is to enable two people who know each other to fly through the sky together, near each other, seeing the same view of ocean, land, sea life, landmarks and people while learning how to fly an LSA.
So, how safe is an LSA?
"Safety is our absolute bottom line number one priority more than anything else," Brin said, noting their LSA is "primarily a hang glider" with a 10:1 glide ratio. What does that mean to you? With that kind of glide performance, "if the engine fails, you just glide down and land just like a hang glider," according to Paul Hamilton's Sport Aviation Center, a website devoted to sport aviation.
Pacific Blue Air LA's LSA also has a factory-installed "ballistic deployable parachute" that can float the entire aircraft down in the event of an emergency. "LSA's are safer than a lot of conventional aircraft," she said.
Students sign a waiver and Pacific Blue Air LA carries the requisite general liability insurance Hawthorne Airport mandates.
Pacific Blue Air wound up at Hawthorne Municipal Airport (aka Jack Northrop Municipal Airport) after learning that their first location choice, Santa Monica Airport, had a 5-year waiting list. She says not being able to set up business at Santa Monica Airport has proven to be a blessing in disguise, since the PV Peninsula offers a great viewing experience of land and sea life and can be flown over from Hawthorne in a 45-minute period of instruction – the time frame she recommends for most students.
The Hawthorne Airport is also situated just off a freeway (the 105 near the 405), and has the bustling JetCenter Los Angeles and two progressive transit companies located nearby: SpaceX and Tesla.
For more: Pacific Blue Air LA, 12101 Crenshaw Blvd., Hawthorne, can be reached at (310) 570-9390 or [email protected]. Office hours are 9 a.m.-5:30 p.m. Friday through Wednesday.
Flights take off and land Saturday through Wednesday from 9 a.m.-5 p.m.