Enjoy Whale Watching Season in the South Bay
Posted by Dave Fratello on Wednesday, January 13, 2016 at 9:02 AM
By Dave Fratello / January 13, 2016
Comment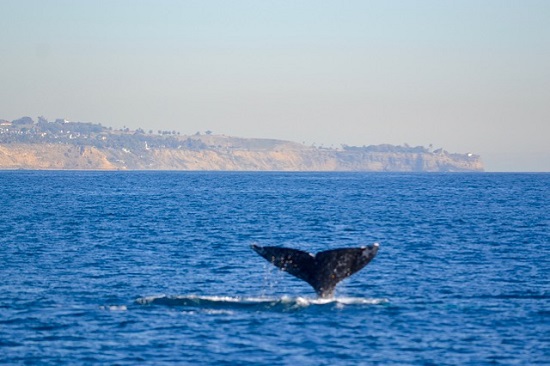 Thar she blows! As thousands of gray whales make their way from north of Alaska down to warmer waters in Baja California, Mexico (and back), the South Bay is a perfect location to watch these enormous and beautiful creatures.
Pacific gray whales spend their summers in the Arctic regions, filling up on food and gaining a critical layer of blubber. When it gets colder in December and January, they head down south on a 5,000-mile migration - one of the longest migrations of any creature - to spend time in the warm Mexican lagoons nurturing their young. By March and April, they are ready to head back north. All along their journey, they stay close to the continental shelf, which makes it easy for South Bay whale-watchers to catch a glimpse of these traveling gentle giants.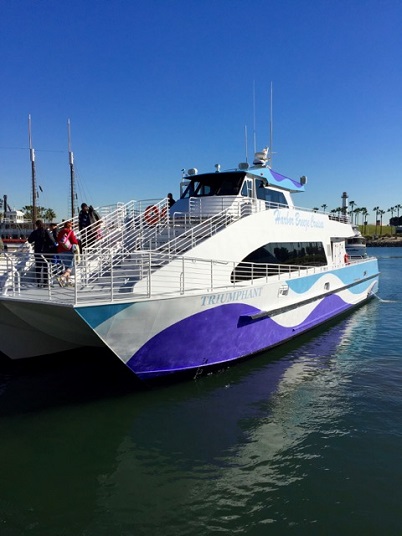 A Pacific gray whale is generally about the size of a school bus - about 45 feet long and 75,000 pounds - according to Kera Mathes, an education specialist and whale expert with the Aquarium of the Pacific. They are gray with white patches, which is where barnacle-like creatures have attached themselves. But their most thrilling attribute for many whale-watchers is the spout: When they rise to the surface, they spout out water in a distinctive heart-shaped burst.
If you're scanning the ocean for whales, you should first look for a slightly darker, flat region in the water that looks almost like an oil slick, said Mathes. Then you'll see a gray head come up and spout water. The whales will submerge close to the surface and spout again three or four times; then they'll get ready for one big deep dive that will last three to five minutes. As they head down for the deep dive, the last sight you'll see is the classic whale's tale popping up out of the water.
The deep dive saves energy for the whales, according to Mathes. "They are more aerodynamic when they are completely submerged."
There's no one "best time" of day to see the whales, say most experts; you could get lucky and find a friendly group at any time of the day. But a good whale-watching guide will be able to identify the most likely spots for sighting whales and will help you know what to look for. In addition to gray whales, whale-watchers might also see fin whales, humpback whales, orcas, sperm whales, and dolphins.
For those who plan to sail their own boats to see the whales, Mathes cautioned against getting too close. "If someone comes too close to a whale, they may get scared and start to zigzag on their course, which can get very tiring. They need to conserve energy," said Mathes. "You want to give them lots of space."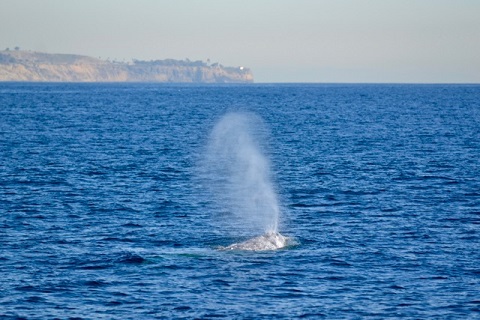 Ready to go on a whale-watching cruise? Several leave from the South Bay area, including:
Voyager IV - Departing from the Redondo Beach Marina daily through April on weekdays at 10:00 a.m. and on weekends at 10:00 a.m. and 1:30 p.m. for a 2 1/2 to 3-hour cruise. Tours narrated by a naturalist from the Cabrillo Marine Aquarium. Adults $30; seniors and military $25; children 12 and under $20.
Shoreliner Cruises - Departing from 22nd Street Marina in San Pedro, this 2 1/2-hour cruise is offered Wednesday/Thursday/Friday at 11:00 a.m. and Saturday/Sunday at 11:00 a.m. and 2:00 p.m. Prices are $25 for adults, $20 for seniors, and $15 for kids ages 3 to 12.
Harbor Breeze Cruises - Departing from outside the Aquarium of the Pacific in Long Beach, these cruises feature educators from the Aquarium of the Pacific. The Triumphant is the new ship designed especially for whale-watching cruises out of Long Beach. Cruises daily at noon and 3:00 p.m. with an additional 9:00 a.m. cruise on weekends. Prices range from $20 to $35.