Enjoy Nature, Mystery, and Adventure at the Great Pumpkin Hunt
Posted by Dave Fratello on Thursday, September 28, 2017 at 1:22 PM
By Dave Fratello / September 28, 2017
Comment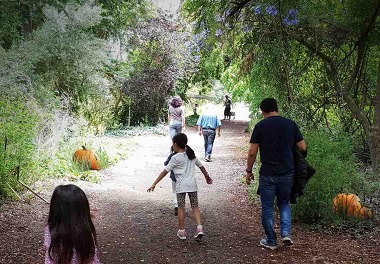 Beautiful surroundings, abundant nature, and a mystery that needs to be solved: The South Coast Botanic Garden's new Great Pumpkin Hunt offers what might be the perfect fall adventure.
From October 1 through November 30, you and your friends or family can travel through the grounds of South Coast Botanic Garden in search of clues on the Great Pumpkin Hunt to locate a hidden pumpkin patch.
The inspired hunt is designed to be appropriate for all ages, with an adventurous light hike through the garden's nature trails.
The Great Pumpkin Hunt will be offered daily from 9:00 a.m. to 5:00 p.m. and is included with garden admission ($9 - adults, $6 - students/seniors, $4 - children), although guests are encouraged to purchase advance tickets at www.southcoastbotanicgarden.org. Garden members are free. All children must be accompanied by an adult.
"We are pleased to bring this all-new fall excursion to the South Bay. This isn't just a cookie-cutter pumpkin lot – the Great Pumpkin Hunt at South Coast Botanic Garden presents a unique fall day trip opportunity," said South Coast Botanic Garden Foundation CEO Adrienne Nakashima. "It will bring friends and families together through imagination and common purpose -- searching for hidden clues throughout our beautiful 87-acre botanic garden, and hopefully taking in a bit of nature along the way."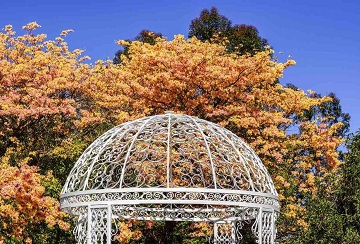 This year's format is different than in years past, on account of some mischievous and hungry wildlife that inhabits the garden.
Last year, the garden had a small pumpkin patch with a few colossal pumpkins growing, along with a "guess the weight of the giant pumpkin" contest. Unfortunately, when it came time to weigh the prized pumpkin, garden squirrels, rabbits and mice had gotten into the patch and eaten the prized pumpkin.
This year's patch is a fall-inspired installation, with imitation pumpkins to ensure that the patch will last for two months without hungry creatures eating through the main attraction. Nevertheless, real pumpkins will be available for purchase at the Garden Gift Shop, and there will be a wide variety of fall-friendly photo opportunities in the patch and throughout the garden's nature trails.
When guests check in at the garden, they will receive a Great Pumpkin Hunt map. The map will encourage them to find the missing pumpkin patch, which has been "hidden away by the birds of the garden, in an attempt to save them from the squirrels and bunnies."
In order to find the patch, guests will look for clues "left behind by the birds" in a series of bird houses. Find all of the clues, and you will have the key to the location of the patch.
Guests should be prepared for a good walk, with tennis shoes and bottled water in tow. For families with small children, strollers are encouraged. The entire hunt will take approximately 2 hours to complete, although a special "cheat sheet" will be available for those who'd like to shorten their visit time.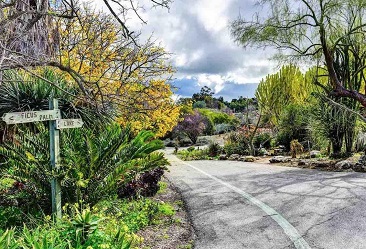 Hunt organizers emphasize that although the hunt is great for kids, adults-only guests will enjoy the excursion as well. Halloween costumes are welcome, and of course, selfies are encouraged.
"It's really about getting outside and into nature, experiencing the fresh air on an autumn day and taking time with friends and family. The pumpkins are just a facilitator for a great experience," said Danielle Brown, chief development officer at the South Coast Botanic Garden.
While exploring the property in search of pumpkins, guests are likely to encounter the Dahlia Garden in full bloom, take a sneak peek at the newly re-imagined Rose Garden while it is in the final stage of construction, relax on one of eight sprawling green meadows, witness many butterflies and hummingbirds pollinating blooms, and relax in the woodland habitat of the alpine trail. Guests are encouraged to make a day of it by packing a picnic to enjoy on one of the picturesque meadows.
According to Brown, the Great Pumpkin Hunt is part of a greater "physical and philosophical" evolution of the garden, in which the venue strives to offer outstanding experiences to its guests in addition to the scenery.
"We find that if we give guests a 'mission' to do something when they arrive, they are motivated to stay longer, look more closely at our botanicals, and explore a larger swath of our property," said Brown.
Brown added that the garden is trying new programming to provide inspired moments for all guests, such as a Family Movie Night held in July that had activities centered around Disney's Moana. "Rather than just running the film on the meadow, we created a garden-wide hunt to find 'the heart of Te Fiti.' Guests interacted with volunteers loosely dressed like movie characters and went through a series of fun challenges such as shooting Nerf guns at the kakumura creatures, doing a silly dance for the hermit crab, etc." said Brown. "Ultimately they were rewarded with a glass token and a meet-and-greet with a Disneyland-caliber Moana princess who was hiding in a special location. We had nearly 2,000 guests that night – a record for the garden."
Brown continued, "We have also re-launched our Kids Club program to be more imaginative and to encourage multi-generational audiences to interact with one another and with nature. Kids Club is a drop-in program that happens once per month and we encourage families to stop at four different adventure stations throughout our grounds. This month, Kids Club will take place on October 29 with a Halloween theme – Scarecrows, Crows and Crawlies. Kids are encouraged to wear their costumes and will participate in a costume parade and have the chance to listen to a flute concert especially for kids."
Located in Palos Verdes on a lush property, the South Coast Botanic Garden has more than 2,500 different species of plants. The garden's mission is to serve the community by providing a unique horticultural and wildlife habitat experience, and to represent a model of excellence for land reclamation and sustainability. The South Coast Botanic Garden is a public garden co-operated between the County of Los Angeles, Department of Parks and Recreation and the South Coast Botanic Garden Foundation. An annual membership to the South Coast Botanic Garden grants members free access to over 250 gardens nationwide. All admission and membership fees go to support the garden.
The South Coast Botanic Garden Foundation is a 501(c)3 nonprofit. For more information, please visit http://www.southcoastbotanicgarden.org.