Capriotti's Sandwich Shop in Torrance
Posted by Dave Fratello on Wednesday, February 8, 2012 at 4:24 PM
By Dave Fratello / February 8, 2012
Comment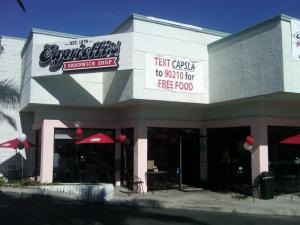 Do you call it a sub, a hoagie, a grinder, or just a sandwich?
No matter what you call it at Capriotti's, the South Bay's newest sandwich shop, you're bound to get something tasty.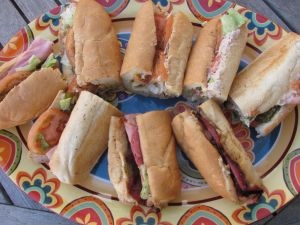 Capriotti's, located on Hawthorne Blvd. in Torrance, has a little something for everyone (even vegetarians).
On a recent Sunday, we picked a sampling of sandwiches including turkey, tuna, ham, and grilled Italian. In case you didn't know this, we have not one but two Italian sides of the family - and we have incredibly high standards when it comes to our Italian subs (or hoagies, as we grew up calling them).
But we're happy to report that Capriotti's was easily up to snuff. We especially loved their trademark turkey sandwich: no turkey cold cuts here, it's all hand-shredded turkey from a fresh-roasted bird. The Mr. wanted something a little spicier, so he was very happy with the grilled Italian sandwich - which featured Genoa salami, capicolla, and prosciutini.
All of the subs we got were 9-inch subs for $6.99. If you've got an even bigger appetite, you can get a medium (12-inch) sub for $8.49 or a large (20-inch) for $12.49.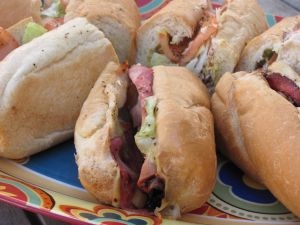 We had the experience of visiting Capriotti's on Super Bowl Sunday, so we had a chance to see a whole crew of workers stacking up hundreds of subs on party tray after party tray. Catering platters can serve anywhere from 3 to 100 people.
On our next visit, we're going to check out Capriotti's most famous sandwich, The Bobbie, which has fresh-roasted turkey, cranberry sauce, stuffing, and mayo.
Blogger disclosure: We were treated to two free subs from Capriotti's for review purposes; we purchased the rest. Capriotti's Sandwich Shop, 17352 Hawthorne Blvd., Torrance, CA 310-214-9200.