A Local Getaway at Terranea Resort
Posted by Dave Fratello on Monday, June 10, 2013 at 4:53 PM
By Dave Fratello / June 10, 2013
Comment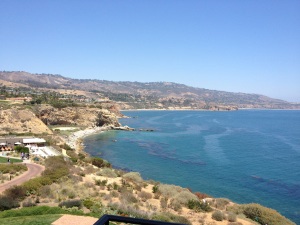 Stressed out? Looking for a departure from the ordinary?
We've got a destination that's just around the corner but is guaranteed to take you away: Terranea Resort, where you can wrap yourself up in all of the ocean's natural glory without even leaving the South Bay.
After a recent overnight at Terranea, we were positively hooked.
This 102-acre luxury eco resort is bounded by the ocean on three sides, so you can barely even turn your head without seeing spectacular ocean views every way you look.
The resort offers 582 guestrooms and suites, including bungalows, casitas and villas; as well as restaurants; a full-service spa and fitness center; an award-winning golf course; three swimming pools; kids' club; a full range of outdoor recreational activities; and event spaces.
We started our evening with dinner at mar'sel, and were delighted to find that there was literally nothing between our table and sweeping ocean views. When we told our server that we felt like we wanted the night to last forever, she told us to take our time; the table was ours for as long as we wanted it.
We enjoyed a wildly delicious meal, highlighted by the most tender Wagyu beef we've ever tried, and homemade English muffins that magically appeared at our table each time a new batch came out of the oven.
For adventurers, there are miles of oceanfront trails at Terranea ranging from easy to moderate. Don't miss the trail down to the rocky beach, where there are kayaks lined up waiting for your next adventure. If you have sturdy shoes, climb the extra 50 yards or so to peek in to the ocean cave, where fossils and sea creatures are right at your feet.
While we were at the rocky beach, we were lucky to see the remains of what must have been a beautiful seaside proposal at the beach.
If you have kids, you won't want to miss the main pool area, with its kid splash zone and water slide. Sure, adults get their own pool, but it's hard to stay away from that slippery zig-zag slide.
When you're all done, you can warm up in the hot tub, or cool down at the spa. If our kids had their way, we'd still be there now. We're planning our next trip already.
Terranea: 100 Terranea Way, Ranchos Palos Verdes, CA 90275. Information: 310-265-2800. Reservations: 866-802-8000. Blogger disclosure: We paid for the trip on our own and decided to write about it; we did not receive any compensation for this post. All opinions expressed are our own.